Does cleaning an injection mold benefit performance? How do you clean an injection mold? And can you cause damage by cleaning too much? 
All great questions that we'll answer here. 
For a little expert insight, I sat down with Steve Johnson, President and Founder of MoldTrax, to talk about tips and advice on mold cleaning. Steve has previously written about The 8 Stages of Mold Repair. We're going to focus on Stage 5—Cleaning. 
Steve starts out by observing, "Toolroom managers and technicians underestimate the benefit of proper mold cleaning and the effect on function."
The 5 Injection Mold Cleaning Methods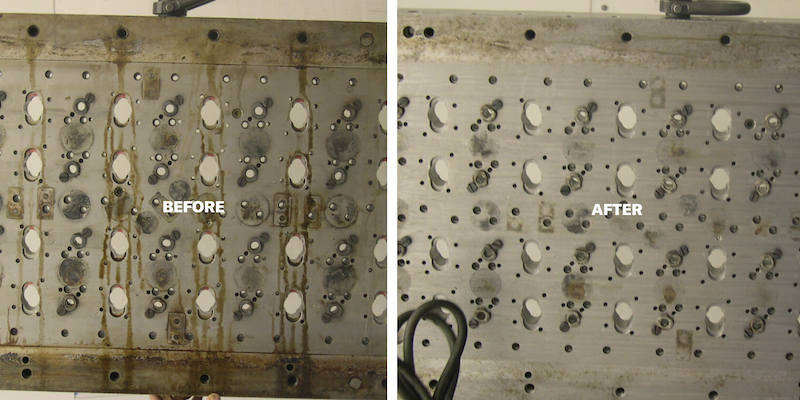 There are five primary cleaning methods to consider:
Chemical cleaning
Ultrasonic immersion cleaning
Dry ice blasting
Soft plastic media blasting
Laser cleaning
Each type of cleaning process can be used for different applications. 
Chemical Cleaning
A chemical cleaning process could be a chemical bath and manual scrub or hooking up the cooling channels to a chemical recirculation circuit to remove fouling and mineral buildup. 
Ultrasonic Immersion Cleaning
With Ultrasonic immersion the cavitation bubbles effectively scrub all of the surfaces of the mold. 
Dry Ice Blasting
Dry ice blasting is great for cleaning the injection mold while installed in the injection machine. 
Soft Plastic Media Blasting
While typical sand blasting media would damage a mold surface, soft plastic media blasting cleans the mold surface without damaging surface texture and polish. 
Laser Cleaning
Lasers will burn off mold contaminants and reflect off the clean metal surface. 
Steve says, "It's important to clean the mold just enough to do its job. Over cleaning can damage the mold surface and strip the mold of any protective surface coatings that were applied."
Steve emphasizes, "Cooling water is a big issue." 
Injection Molds are notorious for cooling channels clogging up due to poor water quality. This results in slower cooling rates and ultimately slower injection mold cycle times. Since time is money in any manufacturing process, looking into ways of reducing cycle time can have a major impact on your bottom line. 
Steve concludes, "A half-second or one-second increase in mold cycle time can result in thousands or hundreds of thousands of dollars in lost productivity." 
Surface Coatings & Injection Mold Maintenance
Another option for keeping those water lines flowing is applying the right cooling channel surface coating. In addition to the cooling channels benefiting from surface coatings, injection mold core and cavity components benefit from PVD coatings as well. The right coating will increase mold life and lead to longer preventative maintenance intervals. 
Injection mold gas vent performance can be increased with the proper polish and surface coating. Polishing mold vents to SPI A-3 and adding the right surface coating allows the residue that would normally build up and clog vents to flow through the vent and deposit into the vent dump, keeping the venting clear and open longer.
We use our Six Point Injection Mold Program to clean your molds and apply the appropriate surface coatings. Here's how it works:
Thoroughly clean the mold surfaces.
Clean and flush the cooling channels.
Check the flow rate and complete a leak integrity check.
Coat the core and cavity with Alcadyne's PVD A10™ Coating <5 microns thick (will not throw mold out of tolerance).
Coat the cooling channel with Alcadyne's proprietary cFlow™ aerospace grade ceramic coating.
Deliver the mold back to your front door for a long and fruitful life pumping out parts.
It's an end-to-end program that extends the life of your molds. 
Conclusion
"Ultimately," Steve says, "People want their molds to run more efficiently and longer in between preventative maintenance."
Injection mold repair and maintenance are critical to achieving these goals. After cleaning an injection mold, surface coatings can be applied to the mold core, cavity, and cooling channels to slow down the buildup of residue that can clog mold vents and constrict cooling channels. 
Surface coatings make the process of removing the residue and fouling faster when cleaning is needed. These improvements result in lower costs as the mold will need to go into the toolroom for maintenance less often, and when the mold does go in for maintenance, the turnaround will be faster because the surfaces are easier to clean with the proper surface coating.
About Alcadyne
Customers bring us problems they are having with a part suffering from wear, friction, harsh chemicals, or heat. We use research & development to identify the proper solution and then surface modification to fix it.
About MoldTrax 
MoldTrax provides specialized course work, hands-on bench training, maintenance software, maintenance products, toolroom design and maintenance efficient auditing.